Bangalore! Come and meet me on Saturday 16th April 2022!
Hello my fellow Bangloreans!

Yaggidiri? Channage idhira?

In case you don't speak Kannada, that means 'How are you? Are you doing good?' :) (Yes, I do speak Kannada and I did not use Google translate!)
I am writing this mail to invite you (and your friends and family) to a special event this Saturday, 16th April 2022 at 6.15 pm, at Bookworm on Church Street.
My good friend (and fellow author) Kiran Manral is in town for the weekend. We will be in conversation with each other about our books, writing processes and a lot more. This is an IN-PERSON event, and I am really looking forward to seeing you all. Now that things have started opening up, it is exciting to have physical events and support local bookstores.
I really hope you are able to join us. Entry is free, and all are welcome.
Do block your diaries, and do come and join us on the 16th. Will be signing books, and of course we will click photos too. (what's an event without boasting rights? :)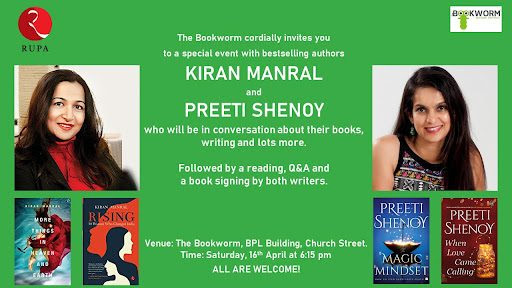 See you on the 16th!
Love
Preeti Shenoy.